(Caption for photo at top of the post: "In this Oct. 30, 1965, file photo, members of the Youth Wing of the Indonesian Communist Party (Pemuda Rakjat) are watched by soldiers as they are taken to prison in Jakarta following a crackdown on communists. AP Photo/File)
The British at least could tell themselves that they were fighting a nasty, defensive undeclared jungle war on Borneo against President Sukarno's neutralist government of Indonesia.
First from the British National Army Museum:
Between 1963 and 1966, British Commonwealth forces fought against Indonesia in a conflict that focused on the future of Brunei and North Borneo. The fighting consisted of small-scale jungle clashes in the border areas, and ended in a victory for the Commonwealth.
In 1962, northern Borneo consisted of the British protectorate of Brunei and the colonies of Sarawak and North Borneo (later known as Sabah). The rest of the island was made up of the Indonesian provinces of Kalimantan.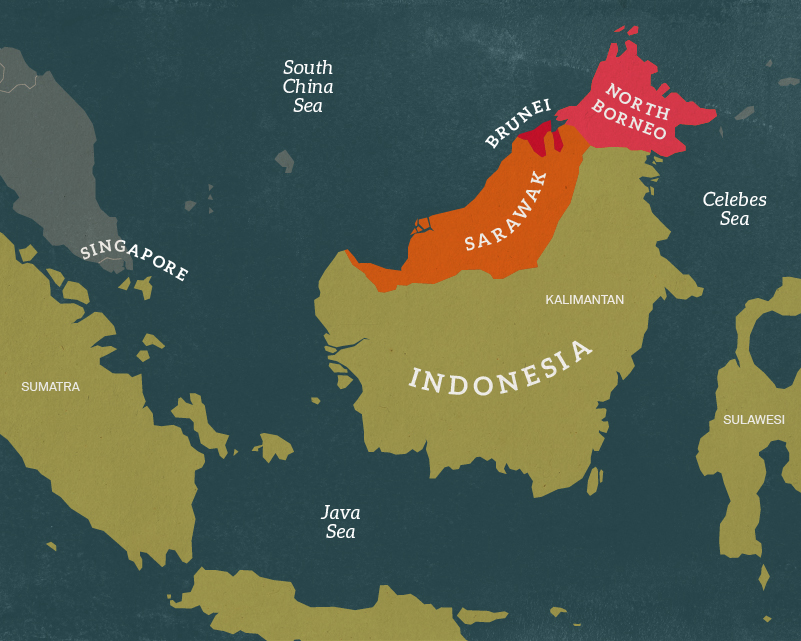 Britain hoped to incorporate Brunei, Sarawak and North Borneo – all close to independence at that time – into the Federation of Malaysia, along with Singapore and the states of the Malayan Peninsula.

However, President Sukarno of Indonesia was wary of continued British influence in the region. He wanted to extend Indonesian control on the island by adding these territories to the rest of Kalimantan…
Now a story at the Guardian:
Declassified documents reveal how in 1965 a shadowy dirty tricks arm of the Foreign Office incited anti-communist massacres that left hundreds of thousands dead

In early 1965 Ed Wynne, an official from the Foreign Office in London in his late 40s, arrived at the door of a two-storey villa set in the discreet calm of a genteel housing estate in colonial Singapore.

But Wynne was no ordinary official. A specialist from the Foreign Office's cold war propaganda arm, the Information Research Department (IRD), he had been assigned to lead a small team. A junior official, four local people and two "IRD ladies", seconded to the unit from London, would join him.

The arrival of Wynne and his colleagues in the Winchester Road cul-de-sac marked the beginning of what would later be claimed, by those who led it, as one of the most successful propaganda operations in postwar British history. A top secret operation that helped overthrow the leader of the fourth most populous country in the world and contributed to the mass murder of more than half a million of its citizens.The proof of Britain's role in inciting what the CIA later described as "one of the worst mass murders of the 20th century" lies in another leafy suburb. In declassified Foreign Office documents – held far beyond the 20-year rule – in Kew in London.Recently released in Britain's National Archives are pamphlets purporting to be written by Indonesian patriots, but in fact written by British propagandists, calling on Indonesians to eliminate the PKI, then the biggest communist party in the non-communist world.

The outcome of the turmoil was a brutal and corrupt 32-year military dictatorship whose legacy shapes Indonesia to this day…[Read on.]
As for the Americans, keep in mind that Communism was seen as an existential threat and they were already fighting what was becoming a major war against them in Vietnam–from a 2017 AP story, the US then under President Johnson::
Files reveal details of US support for Indonesian massacre

Declassified files have revealed new details of U.S. government knowledge and support of an Indonesian army extermination campaign that killed several hundred thousand civilians during anti-communist hysteria in the mid-1960s.The thousands of files from the U.S. Embassy in Jakarta covering 1963-66 were made public Tuesday after a declassification review that began under the Obama administration. The Associated Press reviewed key documents in the collection in advance of their release.

The files fill out the picture of a devastating reign of terror by the Indonesian army and Muslim groups that has been sketched by historians and in a U.S. State Department volume that was declassified in 2001 despite a last-minute CIA effort to block its distribution.

In 1965, Indonesia had the world's third-largest communist party after China and the Soviet Union, with several million members, and the country's president, the charismatic Sukarno, was vociferously socialist and anti-American.

U.S. officials despaired of Indonesia's apparently unstoppable drift into the communist fold and were ecstatic when conservative generals imposed martial law in Jakarta, seized state radio and set out to annihilate the country's communist party on the pretext that it had tried to overthrow the government. Within months, the army would prevail in its power struggle with Sukarno, shifting Indonesia's political orientation to the U.S. and opening its huge market to American companies.

The newly released files underline the U.S. Embassy's and State Department's early, detailed and ongoing knowledge of the killings and eagerness to avoid doing anything that would hinder the Indonesian army. Historians had already established that the U.S. provided lists of senior communist party officials, radio equipment and money as part of active support for the army…[Read on.]
And a few years later the US, now under President Nixon, turning a blind eye to another massacre–a post:
Nixon, Kissinger and the Birth of Bangladesh: Blood on Their Hands
Mark Collins
Twitter: @Mark3ds